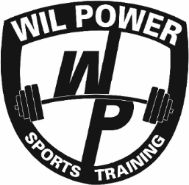 CORRECTIVE and REHABILITATIVE TRAINING



I also specialize in corrective and rehabilitative training, I will get you back to a state of wellness where you can truly enjoy life again .......don't accept being a prisoner in your own body

Chronic problems : lower back, hip, knee,foot and neck pains. Alignment problems (ex. does one shoulder hang lower than the other or are your shoulders pulled forward giving you a sunken chest.)
Joint replacments: Have you completed your physical therapy after a knee, hip, or shoulder replacement and wondered what and where do you go from there?
Fusions: Have had vertebrae fused together, rods or screws inserted into a leg, arm or joint
Illness and Disease: Do you suffer from cardiovascular disease, hyperthyroidism, hypertension, had bypass surgery, multiple sclerosis, obesity or something other ailment?
"SEE IT, BELIEVE IT, ACHIEVE IT"