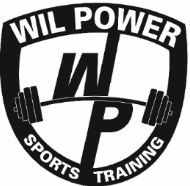 FITNESS TRAINING
If you bring your DESIRE, COMMITMENT, and FOCUS to me, I promise to give you the WIL to succeed……… I guarantee that you will reach your fitness goals.
Each training program is created specific to each individual after a thorough assessment is performed.

In the assessment you will be put through a flexibility/range of motion evaluation, strength tests, and body composition/weight measurments. A through assessment is critical before starting any fitness program. It helps to identify any weakness' that may need to be corrected, your starting fitness level and it becomes a record of your starting point and how we track and determine your progress from that point on. After the assessment we will determine your goals and talk about putting together an action plan, a road map on your path to success……..

So whether you're a beginner and new to training or a high level fitness enthusiast, I will take you to the next level.
TYPES OF TRAINING include:
· Weight Training/Functional lifting(free weights, learning proper technique, full body)
· Metabolic Training(melding weight lifting and cardio into 1)
· Cardio/Conditioning(sustained heart rate for your fitness level to efficiently burn fat)
· Boot Camp
· Kettle Bell
· Core
300 Workout
Crossfit
Interval
"IF YOU WANT SOMETHING BAD ENOUGH, YOU WILL HAVE IT"